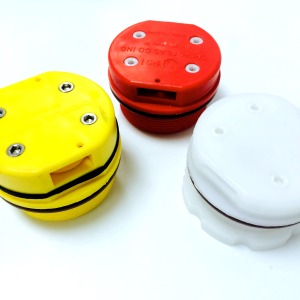 Showing all 11 results
1 PSI Reliever with EPDM O'Ring

The ChemPlas Light Pressure "RELIEVER" is extremely sensitive to pressure build up. In a catastrophic fall or tip over, the "RELIEVER" is completely fail safe.
Injection molded from virgin Polypropylene, the "RELIEVER" has superior chemical resistant properties.

The Light Pressure/Vacuum "RELIEVER" is set to operate at pressures between .5 and 1 PSIG. Vacuum releases at .5 PSI (for gravity flow only). As with all ChemPlas "RELIEVERS", it has a 2" straight NPT. Lock nuts are available upon request.
We offer a variety of O'rings and springs to suit each individual application. Our standard O'ring is Viton (brown) for maximum chemical resistance. EPDM, BUNA and EPDM/FDA food grade are available upon request. Our standard spring is wound from 316 Stainless Steel. We also offer Teflon coated 316 Stainless as well as Hastelloy C which is one of the most universally corrosion-resistant alloy available.

Assembly and test are done in a clean atmosphere. Testing of both models is performed on a calibrated and certified pressure gauges with each unit in place simulating "in service" conditions.